Origin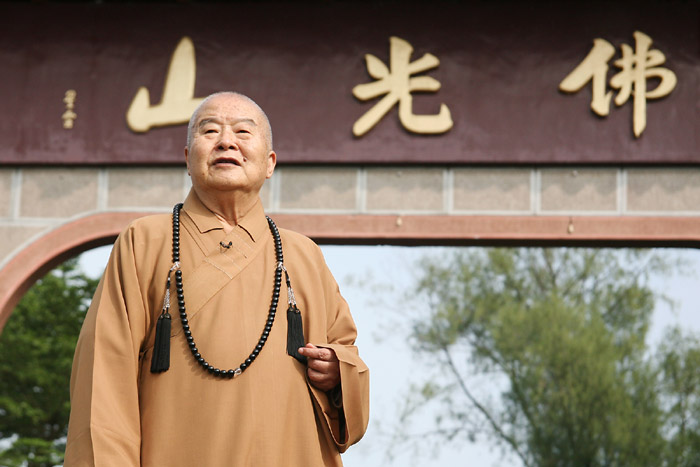 Venerable Master Hsing Yun
Editorial Supervisor

Buddhism has one of the richest cultural and artistic heritage of any religion. Buddhist art have always had a functional role in teaching the Dharma, while being creative and retaining its sacredness at the same time.

When I was 18 years old, still studying at Jiaoshan Buddhist College, I suggested holding an exhibition of Buddhist art and artifacts in Zhenjiang city of Jiangsu. This was regarded an earth-shattering idea considering the conservative nature of Buddhism during that time. To my surprise, I received approval from the dean, Venerable Xuefan. Without any prior experience, I worked extremely hard to plan, make contacts, design, and set up the exhibition. Well over 100,000 people attended the event. The Buddhist works of art on display included Su Shi's jade belt from Jishan Temple, the calligraphy and paintings of the great Ming calligrapher Wen Zhengming, as well as General Fu Bo's battle drum, various emperors' robes, and artifacts from the Qin and Han dynasties collected from various Buddhist temples.

Later, in my quest to propagate Buddhism, I began collecting Buddhist art during my travels, frequently saving my meal money to buy artworks. Tolerating numb limbs from carrying stone Buddha statues from afar, I was often criticized by my fellow Dharma brothers who thought I was shirking my monastic duties to run my own business. Today, many Buddha statues displayed in the Fo Guang Shan Buddhist Museum came from these early efforts.

When I established Fo Guang Shan Monastery, I wanted devotees and visitors to become acquainted with Buddhist art, in order to gain a clearer understanding of Buddhism and to appreciate their beauty. I designated a simple cabinet to display Buddhist artworks at present-day Fo Guang Shan Tsung Lin University. In 1983, Fo Guang Shan Cultural Exhibition Hall opened and became the first museum that specialized in the collection of Buddhist artworks in Taiwan. The Exhibition Hall is the present day Fo Guang Shan Buddhist Museum.

Art galleries were subsequently opened in the Taiwanese cities of Taipei, Yilan, Taichung, Kaohsiung, Changhua, Tainan, and Pingtung. One was established at Hsi Lai Temple in California, USA in 1988. Between 1996 and 2012, art galleries were established at Fo Guang Shan branch temples, including Nantien Temple and Fo Guang Shan Melbourne in Australia; Fo Guang Shan Malaysia; Fo Guang Shan North Island and Fo Guang Shan South Island in New Zealand; Fo Guang Shan Hong Kong; Mabuhay Temple in the Philippines; and Fo Guang Shan France. In addition, several galleries were opened in China, such as Jiaying Huiguan Art Gallery in Suzhou; Jianzhen Library in Yangzhou, and Dajue Temple in Yixing. In total, there are 23 Fo Guang Yuan Art Galleries.

The contributions of Venerable Ruchang, curator of Fo Guang Yuan Art Galleries, have been especially important. Despite many years of expenditure exceeding raised funds, my efforts were recognized by the praise and admiration of the public. Not only do these galleries propagate the Dharma, they also preserve Buddhist artworks. This was a goal I worked hard to achieve.

I frequently travel internationally to propagate the Dharma. At museums in the United Kingdom, France, Japan, Germany, and Russia, and I saw that Gandharan Buddhist art, Central Asian Buddha statues, and Chinese Buddhist works have been well-preserved. In addition, these museums often host various Buddhist art exhibitions or display them as permanent exhibitions. Knowing that these important Buddhist pieces are on display to people around the world fills me with joy.

I have visited the famous Chinese Buddhist caves of Dunhuang in Gansu, Dazu in Chongqing, Yungang in Shanxi, Longmen in Henan, and Qixiashan in Jiangsu. I travelled to the Eight Major Buddhist Sites of India, the Ajanta Caves, and the Buddhist countries of Southeast Asia. Among many places, my feet have trekked to Borobudur in Indonesia, the Shwedagon Pagoda in Myanmar, the historic sites of Ayutthaya in Thailand, and Angkor Wat in Cambodia. I have gazed upon many works of architecture, pagodas, sculptures, and murals. Witnessing the focused observation of other visitors, how they forgot time and linger as if they have no desire to leave, I realized that the life of Buddhism has been injected into each person's veins. Faced with this wealth of art, I sense their value in religion, as well as their significance in education, history, and culture. Yet, with this enormous wealth of information and wide variety of themes, I pondered on how I could help people to discover this treasure trove?

In 1949, I began writing the Song of Silence, in which I personified Dharma instruments to give them a voice. Accompanied by pictures, these Dharma instruments became familiar to readers. In 1959, I used a comic strip format on slides to portray the stories of the Life of the Buddha in order to propagate the Dharma. The audience responded that these slides helped them understand the Life of the Buddha better. There was a general consensus that this method of combining images with text helped people absorb and understand the information better.

For over 50 years since then, I have collected numerous Buddhist art books and illustrated Buddhist publications. Starting in 1995, Venerable Ruchang assisted me in publishing a set of Fo Guang Textbooks that could be used as a reference book. This innovative set of texts represented a departure from the style of traditional Buddhist texts. At least one image appeared on every page, so that readers could see a captioned picture that related to what they were reading. Its publication was met with an enthusiastic response.

It was then I had the idea to compile an encyclopedia that would categorize and organize the extensive information on Buddhist arts. It would also serve as a tool to present information through not only words, but pictures and modern media. I am confident that it would benefit people as they admire the artwork and also help them in their studies. In 2002, after learning of my vision, Venerable Ruchang, who was a graduate student majoring in Arts at Fo Guang University, held a similar vision and have cultivated understanding of Buddhist arts. She resolved to travel internationally to collect information on Buddhist arts. She visited scholars in the field and contacted Fo Guang Shan branch temples and BLIA members worldwide to assist in the collection of images. She led a team of Fo Guang Shan volunteers to organize the collection of vast amounts of data.

I was greatly touched by these efforts. I donated the books on Buddhist arts that I had collected over 50 years and delegated Venerable Ruchang the responsibility of establishing an editorial committee to execute all the tasks related to this project. I also channeled the royalties from the book Boundless Hsing Yun by Lin Qingxuan, amounting to ten million New Taiwan Dollars, to the operating costs required for the publication. These were the origins of the Encyclopedia of Buddhist Arts.

Preceeding the publication of this encyclopedia, Fo Guang Shan had established 23 Fo Guang Yuan Art Galleries across the world. Art galleries organized by religious organizations differ from museums or other art galleries in their missions, operating concepts, and management styles. Since its founding, Fo Guang Shan advocated the propagation of the Dharma through culture for over 40 years. Art is a neutral medium that easily reaches people of different backgrounds, for which the Fo Guang Yuan Art Galleries were established. Beside the importance of maintaining records and managing the collections, the work of publishing the Encyclopedia of Buddhist Arts is also vital in making this information accessible to the general public.

This work also has its origins in my years of propagating the Dharma. Often, devotees, collectors, and professionals in the field have presented me with works of art from famed artists. Artists who have been in touch with Fo Guang Shan have donated their works to Fo Guang Shan's collection. These artists include US-based Li Zijian; mainland Chinese artists Guoliang, Gao Ertai, He Shan, He Datian, Tian Yulin, and Feng Yiyin; Li Chi-Mao and Jinhui of Taiwan; and Hong Kong's Ah Chung. At the same time, Chen Yung-Tai and Pai Yu-Yeh of the AURORA Group generously donated a trove of artifacts to the Museum of Buddhist Underground Palaces at Fo Guang Shan Buddha Memorial Center in Kaohsiung, Taiwan. In addition to being on view for visitors, a number of these pieces can also be found in this encyclopedia.

When Dr. Luo Shiping, Professor of Art History at the China Central Academy of Fine Arts in Beijing, came to Taiwan to give a lecture, I invited him to participate in the encyclopedia's editorial work. Given his research in Buddhist art history, his experiences in hosting and participating in various academic collaborations both in China and abroad, I believe he was duly qualified. Professor Luo understood the importance and historical significance of this encyclopedia to academia, art, and religion. Thus, he gladly accepted this enormous duty. Upon his return to Beijing, Professor Luo organized the nation's best graduate students and professors to assist our editorial staff at Fo Guang Shan in composing and proofreading entries. They worked day and night, endlessly editing each draft, allowing the compilation of the encyclopedia to gradually come to fruition.
The Encyclopedia of Buddhist Arts is the first comprehensive compilation of Buddhist art and contains over 9,000 entries, nearly 3,500,000 words, and close to 15,000 pictures inserted into the text with brief captions. It includes four volumes on Architecture, five volumes on Caves and Rock Carvings, four volumes on Sculpture, three volumes on Painting, as well as one volume each on Artifacts and Decorative Arts, Calligraphy and Seal Engraving, and People. In total, the publication consists of 20 volumes including the Index volume. Geographically, the featured works of art come from Asia, Europe, the Americas, Oceania, and Africa, totaling over 30 countries. Many artworks come from noteworthy museums including the Metropolitan Museum of Art in New York, the Guimet Museum in Paris, the British Museum in London, the Museum of Asian Art in Berlin, the National Museum in New Delhi, the Palace Museum in Beijing, the National Palace Museum in Taipei, the Tokyo National Museum in Japan, and the Gyeongju National Museum in South Korea.
The ten features of the Encyclopedia of Buddhist Arts published by Fo Guang Shan are:
1. The first comprehensive compilation of Buddhist arts
2. Crossing time and bringing together five continents
3. Twenty exquisitely designed volumes
4. Full-color printing in octavo format
5. Over 9,000 entries
6. 3.5 million words accompanied by pictures
7. Well over 10,000 pictures
8. Detailed introductions to each category
9. Explanatory diagrams
10. Appendices explaining special terms
A variety of search methods are included to assist readers who are using the encyclopedia for reference. The List of Entries and the Index are helpful for looking up specific entries. The Appendices supplement the main text by providing diagrams, maps, and line drawings.

After 50 years, the good affinities that have come my way as well as the need allowed for the creation of the encyclopedia. The main people in the editorial board of directors include: Hsin Ting, Hsin Pei, Hsin Bao, Tzu Hui, Tzu Jung, Yi Kong, Hui Chuan, Yongming, Yongjin, Manguo, Manyi, Mankuang, Manchien, Chuehpei, Ruchang, Huizhi, Huirang, Jueju, Miaoshi, Miaofan, Hsiao Pi-Hsia. The Advisory Board of the Chinese Edition include Luo Shiping, Chen Qingying, Jin Shen, Lin Pao-Yao, Huang Wenkun, Jia Yingyi, Wang Yong, Wang Haitao, Cui Yong, Li Yuqun, Shao Jun, Zhang Zong, Xie Jisheng, Chen Qiren, Han Dong-Soo, Liu Tao, Li Fushun, Lin Wen-Yen, Yu Kuo-Ching, Chen Ching-Hsiang, Yen Chih-Hung, Chang Hung-Shi, Pan Liang-Wen, Pan Fan, Chen Yi-Kai, Chen Jyun-Gwang, So Hyun-Sook, and other people of this caliber. The Chief Adviser, Professor Luo Shiping, also led professors Wang Yun, Li Ling, and Wang Zhongxu, as well as 26 other graduate students from China Central Academy of Fine Arts in the editorial efforts. The hard-working staff of the Chinese Edition, led by Venerable Ruchang, include Fo Guang Shan disciples such as Yongzhi, Jueliao, Miaonian, Miaoyi, Miaoguo, Ruxuan, and Ruzhan. There are also graduates from the Fo Guang Shan Tsung Lin University: Wang Mei-Chih and Pan Qimei, and other editors such as Mia Wang. Apart from the important job of writing, they were also given the important job of editing. Devotees in Taiwan and overseas also dedicated their time to help out with the encyclopedia, they include the author Zhao Cui-Hui, and dedicated devotees like Hu Li-Hui and Zhou Li-Jia, to name a few. The encyclopedia comes from the hard work of both monastics and lay people.

The Chinese Edition was published in 2013. The English Edition was translated from the Chinese Edition so it may reach a broader audience. The Fo Guang Shan monastics who dedicated their time to the English Edition include Huifeng, Yichao, Manho, Mankuang, Miaohsi, Miaoguang, Youheng, Miaodi, Youji, and Youlu. Other people that helped with the editing came from all over the world, including Yuan Chou from Australia; Peter Johnson, Yann Locklock and Robert Neather from the United Kingdoms; Gary Edson, Susan Huntington, John Huntington, Jiawei Gong, Wen Fan, Lewis Lancaster, Robert DeCaroli, Steve Addiss, Stefanie Pokorski, Ray Bratcher, Katie Redderson-Lear, and Andrew Ayres from the United States; Sandra Chan, Graham Wilson, Brienna Swanson, Laura Wilson, and Alexander O'Neill from Canada; and Yeun Ong from Singapore.

It is my aspiration that the publication of the Encyclopedia of Buddhist Arts will lay the foundation for the study of both Buddhism and arts. I have hopes that this publication will attract the attention of architects, educators, sculptors, writers, painters, craftsmen, and researchers. If it guides readers to delve deeper into Buddhist arts so that they may learn more, as well as gain a sense of Dharma joy, then it will have already achieved its greatest purpose. Then, perhaps the preservation of Buddhist art and artifacts may become a mutual goal of people around the world.

In the future, the Encyclopedia of Buddhist Arts will also be published digitally, so that it can have an even further international reach. May the world see the integrity of Buddhist cultures and reap the benefits and joy of the Dharma through the prism of Buddhist arts.


二○一二年十一月
於佛光山開山寮